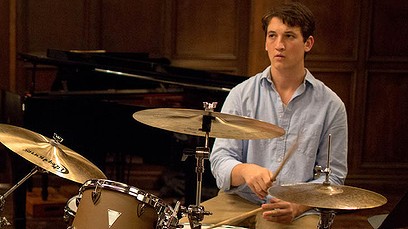 ---
Movie Drummer Star Gives Drum Lessons Tips
Thursday, January 15th, 2015
Star of the new drumming film Whiplash Miles Teller has some advice for you – become a drummer! Seriously. The Fantastic Four star, who plays a talented and dedicated jazz drummer in new movie Whiplash, told us that percussionists are in high demand in muso circles. "If you have a drum set people will play with you," he said. "There's just not that many drummers around. There's a lot more guitar players than there are drummers.
"In college every dude would have a guitar and know a couple of songs. Wonderwall by Oasis was the really popular one." Oh, yeah. We've totally met that dude. And his advice for aspiring Keith Moons? "If you wanna play the drums, dude… just start playing."
Whiplash is in UK cinemas now.  Jimmy Fallon chats with Miles Teller about his dramatic film Whiplash and how he really played drums for the role.